Register as New Patient
Church Lane Medical Centre does not discriminate patients on the grounds of race, gender, social class, age, religion, sexual orientation or appearance, disability or medical condition.
If you wish to register with the practice the quickest and easiest way to do this is by registering online. Alternatively you can download and print a paper copy of the form or call in to reception to collect one. If you don't already know this, it would be helpful if you could request your NHS number from your current practice as this speeds up the process of locating you on our clinical system but this is not mandatory.
Upon registering you will be offered a 'New Patient Health check' with our Healthcare Assistant. There may be a delay between us requesting your medical records from your previous GP and receiving them in the surgery. Your New Patient Health check is important in helping us treat you should you need to see a clinician during this period.
Please also take a look at our Practice Booklet which provides lots of information on the services we offer.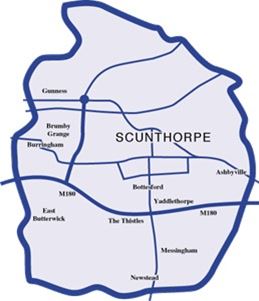 Practice Boundary
Temporary Patient Registrations
If you are ill while away from home or if you are not registered with a doctor but need to see one you can receive emergency treatment from the local GP practice for 14 days. After 14 days you will need to register as a temporary or permanent patient.
You can be registered as a temporary patient for up to three months. This will allow you to be on the local practice list and still remain a patient of your permanent GP. After three months you will have to re-register as a temporary patient or permanently register with that practice.
To register as a temporary patient simply contact the local practice you wish to use. Practices do not have to accept you as a temporary patient although they do have an obligation to offer emergency treatment. You cannot register as a temporary patient at a practice in the town or area where you are already registered.
Out of Area Registrations
If you live outside the catchment area for the surgery we may still accept you as a patient.
We appreciate that for many people it is more convenient to register with a surgery that's is easily accessible to your work or your children's school for example.
All "out of area" registration requests are assessed on an individual basis. They may not be accepted, for example, if the patient lives too far away from the surgery and needs home visits.
For more information visit the NHS Website: https://www.nhs.uk/nhs-services/gps/registering-with-a-gp-outside-your-area/
Disabled Patient Facilities
The surgery is suitably equipped for disabled patients with easy access, disabled toilet, designated parking and a wheelchair available on request.
Non-English Speakers
These fact sheets have been written to explain the role of UK health services, the National Health Service (NHS), to newly-arrived individuals seeking asylum. They cover issues such as the role of GPs, their function as gatekeepers to the health services, how to register and how to access emergency services.
Special care has been taken to ensure that information is given in clear language, and the content and style has been tested with user groups.
Open the leaflets in one of the following languages: